A Refreshed Playmakers Youth Theatre!
It's been a great summer for Playmakers, with our Youth Theatre taking part in Hat Fair 2021, and launching our first ever series of Playmakers' Let's Explore… series of workshops, as well ongoing projects such as Knitted King Alf – all the #KnittedAlfs are looking fabulous around the city!
And just like that, Autumn has once again come around, and bringing with it comes our refreshed Playmakers Youth Theatre offer which begins week commencing Monday 4th October 2021.
The new-look Youth Theatre will now offer sessions to even more young people, with sessions open to anyone in school years 2-13, as well as those aged 19-25. We've added an additional performance group for those in school years 9-13, and, for the first time, we will have our own Young Company for those aged 19-25. The latter will work collaboratively with Play to the Crowd professionals to stage two brand new shows both at Theatre Royal Winchester and Hat Fair 2022.
"Playmakers Youth Theatre has a long history of providing exciting, engaging and enriching experiences for local young theatre makers. This refreshed and expanded offer will not only enable us to continue to build on this fantastic work, but also provide even more opportunities for those we work with to experience even more about professional theatre making!"
As previously announced, we have two brand new plays being written especially for Playmakers Youth Theatre. Local writers, Anna Harriott (Creative Director at Tall Tree Theatre) and Vicky Hancock, will create these new pieces of theatre directly with members of the Youth Theatre.
On being asked about the commissions, Anna said "it's a wonderful feeling to be entering a new writing process knowing that I have the support of that [Playmakers] community as well as their dedicated creative team."
Vicky said, "I'm looking forward to giving voice and language to the motivations and concerns of a group of young people, and seeing how that develops into a piece of theatre."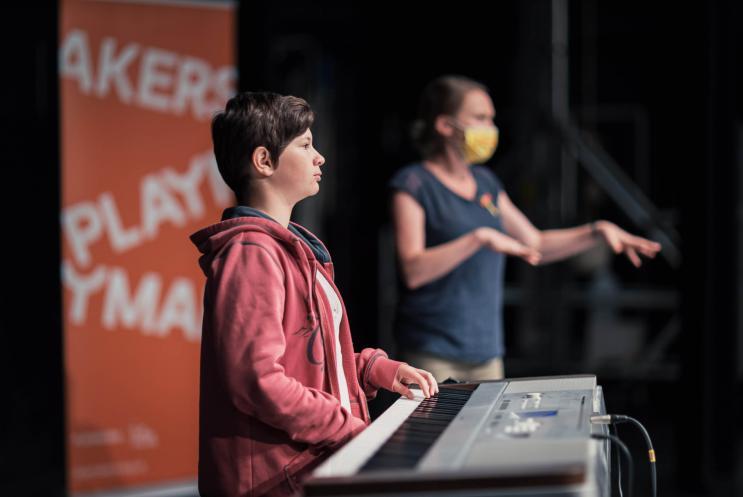 Our Youth Theatre members will be working with even more professional theatre-makers to develop their skills, which will even cover writing and design for performance.
Along with the refreshed feel comes a new pricing structure, to support us in ensuring all participants can experience more for less.
As with all good things, there are still a few more bits for our team to finalise ahead of the year of youth theatre offer. We will be making a full announcement where you can then book places on our Playmakers Youth Theatre. In the meantime, please do not hesitate to contact our Young People's Producer, Liam Gifford, should you have any questions.
Photos by Luke MacGregor, Matt Honey & Adrienne Photography