Festive characters at Winchester Christmas Market
As part of Play to the Crowd's collaboration with Winchester Cathedral, Playmakers asked seven local writers to write and perform work for Winchester Christmas Market, in response to the Cathedral's Christmas theme of 'Wonder and Light!'.
The writers, who have been participating in Playmakers' Writing to Play programme, led by writer Richard Hurford, wrote and performed an array of characters including Baldwin the Time Travelling Bard, The Menopausal Christmas Fairy, Brian a down trodden Reindeer, A Christmas Spirit, The Misericords and, of course, not forgetting a misplaced Buttons from Cinderella. The pieces were performed as pop-up performances throughout the market and entertained visitors from far and wide.
"I really appreciated the opportunity to perform outside. Being site responsive and engaging with unsuspecting audiences made the work more liberating, exciting and unpredictable. I definitely hope to do more outdoor arts in the future."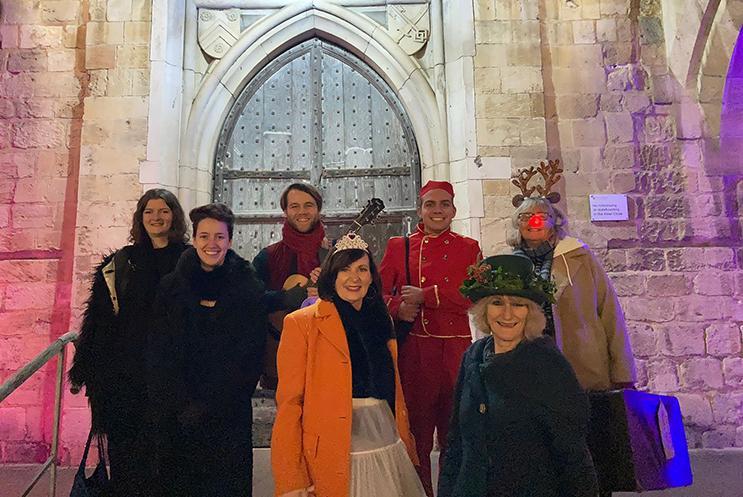 Hannah Jones, Engagement Producer for Play to the Crowd, said: "It was a joy working with the writers in rehearsing and platforming their work for the Christmas Market. The writers were not only able to develop their work but also explore their characters through performance. For some who had never performed before, this was a prime opportunity to truly discover their characters from an actors point of view and gain new experiences in creation and performance. All of the writers captured their audiences and gave that extra bit of magic to the Christmas Market!"
Emma Caulton, writer and performer, comments: "Brilliant to be pushed well out of my comfort zone even at my (later) stage of life. Enjoyed doing something different, meeting (lovely) new people of varied ages and interests, and feeling more involved in my local area/community. Also, enjoy the challenge of reflecting on a different artistic approach"
Playmakers' Writing to Play aims to create a community for writers, encouraging new theatre work that explores, celebrates, questions and illuminates Winchester and Hampshire life in surprising ways and unexpected places.
We want to develop long-term relationships with new, emerging and experienced writers so that we can support each other in making the best possible live performance work for our audiences and communities.
Join our Writing to Play Network by emailing playmakers@playtothecrowd.co.uk