Congratulations Top Hat 2021 winners!
On the first day of Hat Fair 2021, the public sat down to enjoy performances from five acts competing in our Top Hat competition.
Top Hat invites past and present University of Winchester students to present performance ideas – with the successful few performing these at Hat Fair for the public and specialist judges. The winner receives mentoring from Hat Fair and Playmakers Director, Andrew Loretto, and returns the following year as an official act.
This year the acts performing for the vote were:
Michelle Dabenett with an autobiographical piece called Welcome to my Wendy House.
 
Alana Berry, Jasmine Checkley, Sophie Green, James Kegel and Emily Spencer with Chop Chop – a comic look at Henry VIII's children as they gather for Catherine Howard's execution.
 
DoDo Dramatics (Rhodri Mayer, Trudi Licence, Katie Fiddaman and Tony Murray) with Ancient Antics – Mock the Greek about Greek myths and legends.
 
Orla Connolly with a hoiléan, a farraige – a dance piece inspired by the women and crafts of the Aran Islands and exploring isolation, community, and landscapes.
 
Jacob Hulland (and comic ensemble) with Eternally Rude – a family-friendly show full of physical comedy and witty commentary about an immortal alien called Swiggy Mallow who insults everyone.
On the judging panel this year were: Etta Ermini (Etta Ermini Dance Theatre), Zoie Golding (ZoieLogic Dance Theatre) and Deryck Newland (Chief Executive of Play to the Crowd arts and education charity).
And the winners were...
Michelle Dabenett and DoDo Dramatics!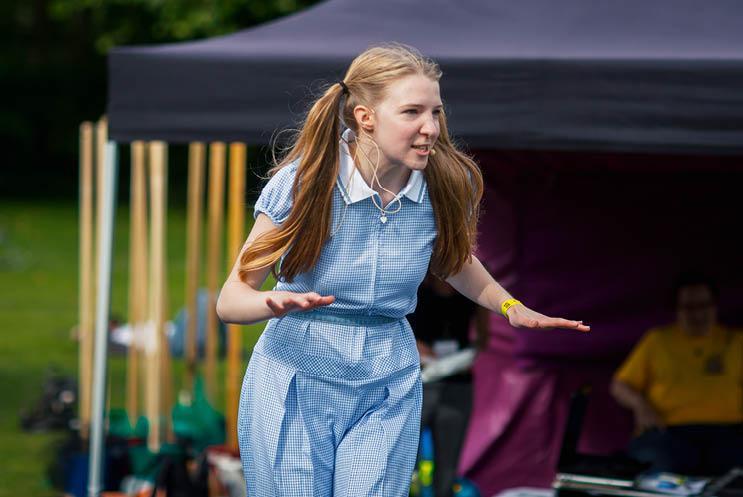 Working with the team at Play to the Crowd was delightful and they are such lovely, hard-working people which made my job so much easier.
Welcome to my Wendy House (pictured above) was an interactive comedy set on the day of a fake wedding in a primary school playground. It spoke of the everyday happenings of a primary school pupil and the dramas they get in to. Taking a trip down memory lane, it reminisced on dodgy whiteboard pens and musical triangles, and touched upon themes including mental health and friendship.
Ancient Antics – Mock the Greek (pictured below) was described as a 'Horrible Histories meets Monty Python comedy adventure' and saw a character called Deetrius the Great battling ferocious Greek waters, a stupendous Trojan Horse, and a (not so) mighty Minotaur – and was performed live for the very first time at the festival.
This opportunity has already opened many doors for our company and we are thrilled to have participated in the competition, winning was just the icing on the cake for us.
Michelle said: 'A couple of years ago I never imagined I'd be performing my own autobiographical comedy by myself at Hat Fair. In my gut, I felt this year I had to. I had the best time performing a comedy that was so personal to me and so happy I could share it on a lovely sunny day and make some people laugh.
'The fact that I won the Top Hat Competition has made me feel so honoured and happy. It has given me the encouragement I need to continue writing and creating art so that I can make people smile, laugh and reminisce. I am so excited to come back and perform next year. I am currently in the process of developing ideas and I can't wait for it to slowly unfold and turn into a wonderful piece of art to be enjoyed next year.'
DoDo Dramatics said: 'We are so excited to be working more closely with Hat Fair and would like to thank all of the organisers, volunteers and artists who made Hat Fair 2021 such a success.'
Michelle and DoDo Dramatics will now go on to work with Andrew Loretto to devise pieces to perform at Hat Fair 2022 – when more acts will compete for the Top Hat crown and the chance to return to the festival with a show.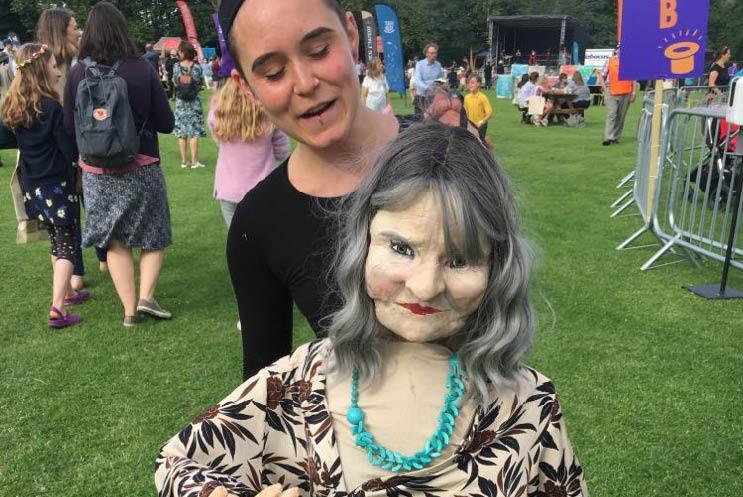 Lottie Clist (above) won Playmakers' 2019 Top Hat competition. Lottie returned this year with a life-sized puppet, octogenarian Dorothy, collecting stories from older festival goers about their experiences of lockdown and loneliness.