Carnival Costume Making Workshop
On Thursday 3 February 2022, Playmakers hosted a carnival costume-making workshop for schoolteachers at Theatre Royal Winchester. The aim of the workshop was for the teachers to be shown how carnival costumes can be created from scratch, and to develop skills in which to teach their own students how to create their costumes for the Hat Fair 2022 Carnival opening procession. The Hat Fair Carnival is made up of various schools in and around Winchester and sees hundreds of schoolchildren take to the streets in a colourful, dazzling parade to open the historic Hat Fair festival.
The workshop was led by Gina Dyer, Lead Artist and Creative Producer and Hannah Ray, Carnival Arts Development Worker from The New Carnival Company. Gina and Hannah put the teachers into pairs to create a carnival costume around the theme of 'sunny days and dark nights'. This got the group thinking creatively. Costume items that were made included skirts, collars, headdresses, and carnival flags. Many of the teachers colour coordinated their outfits, making the costumes pop and standout even more.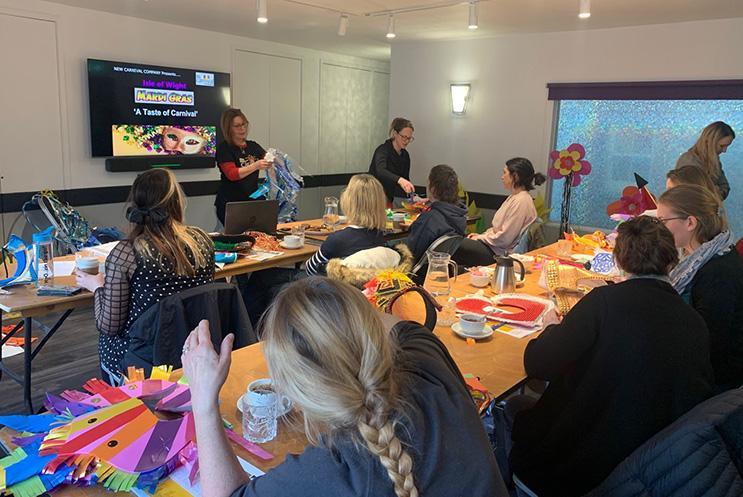 "I have found that creating carnival costumes changes people in a good way, some kids really come out of their shell"
One participant, who teaches SEN students, learnt how to adapt the making of the costumes to keep it as easy and straight-forward as it could be. Another teacher, who had attended a previous carnival costume workshop with Playmakers, said: "I feel more confident this time around and my skills have definitely grown since the last workshop".
Towards the end of the session, the teachers had the chance to try on their creations and give feedback on the day. All felt they had the skills and confidence to return to their schools and demonstrate the making-process to their students.
The Hat Fair Carnival will take place on Friday 1 July 2022 (times TBA) in Winchester city centre, kicking of the city's annual Outdoor Arts festival which runs Friday 1 – Sunday 3 July.
If you would like to find out more or get involved in the Hat Fair 2023 Carnival, please contact Hannah Jones, Engagement Producer – Hannah.j@playtothecrowd.co.uk